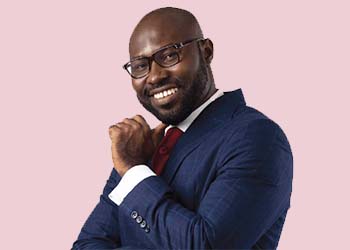 Professional Affiliations
Member, Ghana Bar Association

Member, Association of International Petroleum Negotiators, USA

Member, Center for Energy, Petroleum & Mineral Law and Policy (CEPMLP), UK
University of Ghana, LLB

Ghana School of Law, BL

University of Houston, LLM
John is a former employee of Mobil Oil Ghana Limited and a lecturer at both GIMPA Business School and GIMPA Law Faculty. He has over 5 years of extensive experience providing varied services to multinational companies including Global Gas Energy, USA, and Trellidor Ghana Limited, Payflex Microfinance Company Limited, Ghana, Stanbic Bank, Ghana Limited . He also advises many corporate and individual clients on general commercial matters, including strategic advice on acquisitions and sales of businesses
Before founding Consulting WP in early 2001, Brandon started two Internet companies in Silicon Valley. Previously, Brandon held various management positions in New York at Simon Brothers, most recently as Vice President in Goldhill Group, focusing on new business development and risk management. He has also worked as a senior financial risk management consultant to the financial services industry; software engineer; advertising sales manager for the popular Caribbean travel guide series; general manager of an advertising and graphic design agency; and engineering intern at the Best Health Coach.
Some of the other Clients who consult him in Ghana are Vulcan Natural Resources, Equity Capital savings and loans, Chamber for bulk oil Distributors (CBOD)
John is also the Environmental law Lecturer at GIMPA law Faculty. He has several years of experience in teaching and legal practice in Environmental law. He has taught Legal environment of business at the GIMPA MBA Class and Contract Management at the Business school. John is a proud recipient of Association of International Petroleum Negotiators (AIPN) and Rocky Mountains Mineral Law Foundation Scholarship. He is currently working on publishing his LLM thesis on Avoiding the Resource Curse in Ghana: The Role of Law
John has attended several international conferences in oil and gas, particularly the AIPN spring conference in Galveston, Texas on Current Events and Future Trends in the World's Hydrocarbon Hotspots He also actively participated in Rocky Mountains Mineral Law Annual Institute's conference in Calgary- Canada. He took part in Critical English law Issues for International Oil and Gas conference in Houston. He was one of the participants AIPN conference in Investing in the Energy Sector in Emerging Markets: – Washington D.C.
John recently presented a paper titled "Ghana's Petroleum Revenue Management Law: The Saviour That Never was, a Problem With the Law or the Leadership?" at Green Templeton College, Oxford University, UK.
John has been a Partner since he co-founded Darko, Keli-Delataa & Co. and a member of our Board since July 2016